Limited Time Event
Celebrate LEGO NINJAGO
July 22 to August 28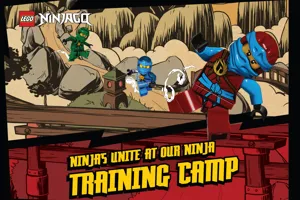 Join Team Ninja!
July 22 to August 28
Join Team NINJA!! Level up your Ninja Skills through Ninja Training Camp and become a Master of SPINJUTZU!! Master the 6 virtues:  Curiosity, Courage, Wisdom, Balance, Generosity, and Honesty through different challenges and Join Team Ninja! 
Complete the Virtue Training during your visit by:
Curiosity: Completing the Scavenger Hunt and finding all 6 Golden Ninjas in our Miniland! 
Courage: Building a wall to see if it can withstand earthquake forces at our earthquake table! 
Wisdom: Master the art of BINGO in our Creative Workshop
Balance: Show off your Dance moves!!  
Generosity: Build Master WU a LEGO® Present and give it to him
Honesty: Make a Pledge to stay honest! 
All Ninjago event experiences are included in general admission.
Visit Today