Celebrate With Us!
Celebrate with a LEGO® Birthday party at LEGOLAND® Discovery Center Dallas/ Fort Worth and have a fun-filled adventure to remember! We can't wait to have a bricktastic time with you and your guests!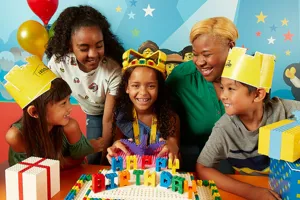 Value Birthday Party
Admission into LEGOLAND Discovery Center for up to 30 people (children and adults total)
Activity Pack for each child
Discounted ticket for adults 
Exclusive LEGO model for the birthday child
Personalized LEGOLAND Discovery Center invitations available to print or email
Minimum of 10 to book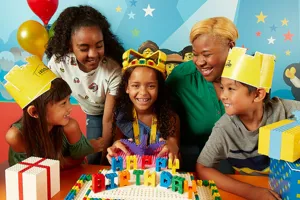 Premium Birthday Party
Admission into LEGOLAND Discovery Center 
2 hours of play prior to party room time
1 hour in a private party room with host 
Exclusive LEGO models  (1 per guest)
1 activity lanyard for the birthday child
1 birthday button for the birthday child
Pizza (choice of cheese or pepperoni)
Choice of 2 different sodas
Plates, cups, utensils included
In and out privileges to come back and play after the party on the same day
Personalized LEGOLAND Discovery Center invitations available to print or email
Minimum of 10 to book
Due to health and safety measures and to ensure the safety of our guests, this birthday party package is temporarily unavailable
Plan Your Party
Premium Party Package
You can book your entire party online
Party Room 1 requires a minimum of 15 people to book
Party Room 2 requires a minimum of 10 people to book
Guest count should include adults and children
Reservations must be booked at least 3 weeks in advance.
Payment is taken at time of booking in order to reserve your party package, date and time. 
Once your Premium Party Package is booked you will receive a confirmation email and a follow up call from one of our team members
For additional questions, please email us at dfw.sales@merlinentertainments.biz
If you have a party of more than 30 people you must book both rooms. Unfortunately we do not have the ability to go past our room capacities
Submit Booking Request
Valid with Premium Party Package only
Arrival Process:
It is important that your entire group (or majority) arrives at your scheduled check-in time. Upon arrival, please check in at the Admissions desk.
You will be greeted by your party host who will assist you with your check-in, attach wristbands to you and your guests, and sell any additional adult tickets you may need to purchase.
The party host will load your cake and gifts on a birthday cart that will be stored until your party room time
You may play inside the attraction until your party time; the birthday host will meet you in front of the private party room, which is located next to the coffee shop, at the start of your room time.
Party Room & Playtime:
Two hours of playtime prior to your party room time
When arriving at your private party room,
you'll find:

Pizza parade with your selected pizza options
Choice of 2 drink options to serve to all guests 
Happy Birthday and Cake
Gifts
Once the time in the private room is up, you are welcome to take your leftovers and presents in to your car.
You and your guests are then free to enjoy the attraction more after the hour is up in the private party room 
Your party host does not remain with you during this time and any additional beverages or food needed while in the attraction are not complimentary and can be purchased in the coffee shop
Check-in process:
We recommend having the majority of your group gathered together prior to checking in with the admission desk. If you are running late, we will do our best to accommodate your party in the time remaining, but we cannot extend your time in the private room past the 1 hour allotted. If some of your guests arrive late, one of our party hosts will do their best to escort all late guests to the party room.
What to bring:
Order Confirmation: Please bring with you the email confirmation of your order, either printed or you can present this on your mobile device. No need to bring anything else. We'll handle the rest!
Additional Party Food:
We do not allow outside food in the attraction and we cannot add additional food on the day of your party. All extra food orders need to be placed 10 days in advance. Please note we do not sell pizza or cake in the our coffee shop. *Valid with Premium party package only