Join team NINJA!
Test your ninja skills from May 19th- June 30th!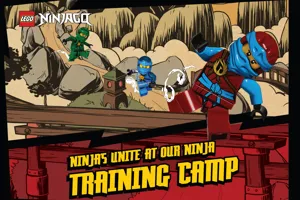 Level up your NINJA skills!
LEGO NINJAGO is under threat and Master Wu needs more Ninjas than ever to help save LEGO NINJAGO from the evil forces that threaten its very existence. Young ninjas can "spin"jitzu in to join Team Ninja Training Camp and level up their skills to master the six ninja virtues – courage, balance, honesty, generosity, curiosity, and wisdom.
Find out if you've got what it takes to and protect the LEGO® NINJAGO® legacy!
When: May 19th - June 30th 
Activities Include: 
Watch the NINJAGO 4D movie
Trade Minifigures with our staff

Level Up COURAGE - Climb the ultimate LEGO® wall

Level Up BALANCE - Learn ninja moves (schedule below)

Level Up HONESTY - Make a pledge to be truthful

 

Level Up GENEROSITY - Build a unique gift for Master Wu

 

Level Up CURIOSITY - Join the Ninja hunt and search MINILAND for our missing Ninjas

 

Level Up WISDOM - Show quick thinking and play our Ninja Bingo

 
Learn NINJA moves:
May 26th 1:00 - 1:30 and 1:45 - 2:15 
May 27th 1:00 - 1:30 and 1:45 - 2:15 
May 31st 1:00 - 1:30 and 1:45 - 2:15
June 1st 1:00 - 1:30 and 1:45 - 2:15
June 9th 1:00 - 1:30 and 1:45 - 2:15
June 14th 1:00 - 1:30 and 1:45 - 2:15
June 15th 1:00 - 1:30 and 1:45 - 2:15
June 24th 1:00 - 1:30 and 1:45 - 2:15
June 28th 1:00 - 1:30 and 1:45 - 2:15
June 29th 1:00 - 1:30 and 1:45 - 2:15
Buy Now