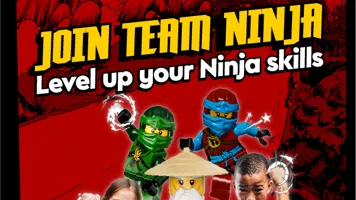 THE JOURNEY TO NINJA MASTERY CONTINUES.
ARCHIVED - This event has ended.
LEVEL UP YOUR SKILLS AS YOU TRAIN, PROGRESS, AND REAP THE REWARDS OF BECOMING A TRUE NINJA!
JULY 2 TO AUGUST 28, 2022
As the forces of darkness loom over LEGO® NINJAGO®, Master Wu urgently needs new recruits to make sure good continues to triumph over evil! He knows you're already practiced in the arts of LEGO NINJAGO – but are you ready for the next level?
Join Wu's Ninja Training Camp and take on the exciting and rewarding new missions in the dojo on a quest to level up your Ninja skills in the virtues of courage, generosity, honesty, wisdom, balance, and curiosity.
Come along and find out if you've got what it takes to level up, Be Ninja, and protect the LEGO NINJAGO legacy!
Meet-and-greets with Lloyd, the Green Ninja, will take place on the following days and times:
Mondays - 1pm
Tuesdays - 1pm
Wednesdays - 1pm
Thursdays - 1pm
Fridays - 1pm
Saturdays - 12pm, 2pm, and 4pm
Sundays - 12pm, 2pm, and 4pm