Homeschool Days
Join the Homeschool fun on February 22, 25 and 26! Tickets start at $14.99 and includes a LEGO Collectible Prize!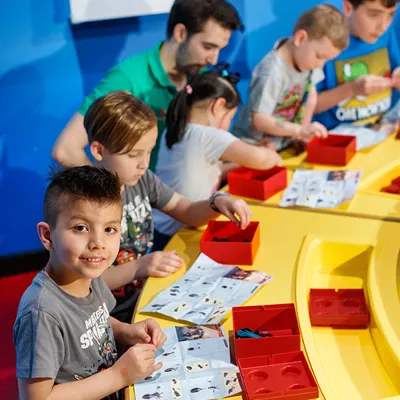 Homeschool Days are Here!
Jump into the Ultimate Indoor LEGO Playground and join us for our exclusive Homeschool Days! February 22, 25 and 26 are Homeschool Days at LEGOLAND Discovery Center San Antonio! Come experience a family friendly, educational and fun visit at a great price! 
Students will be given an activity packet (Recommended for ages 6-12) that covers multiple subject areas by providing fun activities to do at different parts of the attraction.  After each activity is completed, the students will collect the stamp for that station so they can claim their prize once they have all the stamps.
Each ticket includes:
Entry to LEGOLAND Discovery Center San Antonio including access to two rides, 10 play areas and our AWESOME 4D Theater
One Homeschool Activity Worksheet per student to complete while in the attraction
One prize for completed packet per student (A $5 value)
20% off in the Café
Homeschool Days Terms & Conditions
Please view our terms and conditions for more information about Homeschool Days!
Please bring a clipboard and pen or pencil for each student to use while they are completing their activities. Students will also need to borrow the stopwatch feature on your phone or bring a stopwatch with them.
These activities are best suited for children ages 6-12. Younger children may require more assistance from their homeschool teacher to complete the activities.
Annual Pass Members can purchase just the Homeschool Activity Packet for $3 at the admission counter.
You will be asked for proof of homeschooling to be eligible for discounted homeschool tickets. For the state of Texas this could be a visual representation of the curriculum or a membership card or other proof of membership in a homeschool group (for example, the Texas Homeschool Coalition).
Questions? Please e-mail sanantonio@legolanddiscoverycenter.com.