Pirates Hunt for the Golden Treasure!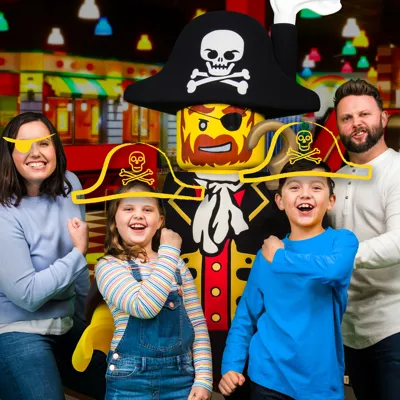 There is Treasure to be Found!
Starting February 9!
Listen up shipmates, there's treasure to be found! Captain Brickbeard is on the hunt for some very precious treasure so he can buy a new ship and show his archenemy Redbeard who is the best once and for all!
He needs YOU on his crew to help search LEGOLAND Discovery Center Island for the golden haul before his new nemesis, Pirate Princess Argenta plunders the prize! 
There are 8 Golden Treasure stickers to find. Be sure to mark them all on Ye Olde Map so Brickbeard can snatch them all up! 
Pirate shenanigans abound with:
A GIANT treasure chest made out of LEGO®
Pirate themed creative workshops
Appearances by Captain Brickbeard mascot (select days only)
Pirate minifigure trading (while supplies last)
Pirate photo ops
And More!
Book now to hunt for golden treasure at LEGOLAND® Discovery Center!