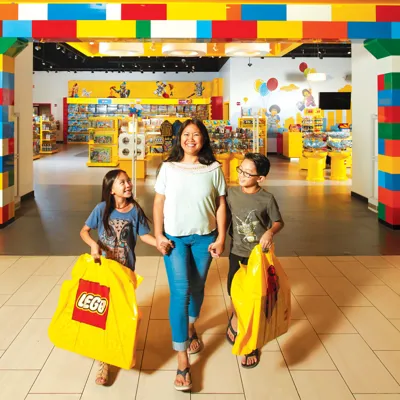 Epic LEGO Shop!
Hey LEGO Fans! The minifigures currently have our store under construction and it will be temporarily closed starting September 27 - October 25. But don't worry, you can still get your LEGO Product! Check out the link to place your request.
Can't find what you're looking for on the form? Let us know what product it is and we will let you know if we have it for you! 
You don't need a ticket to visit the LEGO Store!
Visit the LEGOLAND Discovery Center Retail Shop and browse a LEGO-tastic array of products to keep any LEGO fan happy.
LEGO Store Hours:
Monday-Thursday: 11am - 8pm
Friday- Saturday: 11am - 9pm
Sunday: 11am - 7pm
LEGO-tastic Store Information
LEGOLAND® Discovery Center Annual Pass members enjoy a 10% discount on select items. Purchase an Annual Pass
We are not able to accept LEGO® Gift Cards as form of payment in our shop.
We do not participate in the LEGO® Club points program.
We can only accept refunds or exchanges from items purchased from LEGOLAND® Discovery Center.
The item must be unopened and with the original receipt in order to receive a refund.