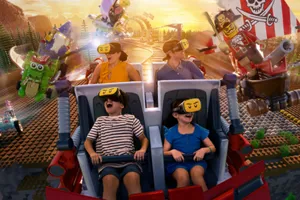 The Great LEGO®︎ Race
Get ready for The Great LEGO® Race VR Experience, a virtual reality experience where we invite you to literally buckle up and go for a ride inside the most incredible, exhilarating and fun LEGO® race ever created! Immerse yourselves in a LEGO® world racing brick-built vehicles in the hopes of becoming the next Champion!
Racers will enter the virtual world and be the star of a rollicking race against several LEGO® MINIFIGURE competitors including a pirate, wizard, surfer and pharaoh.
With twists and turns throughout the course, the experience engages all senses by combining sight, sound and motion to allow guests to escape reality.
The 360-video let's guests see all around them as they venture across a rocky mountain, rolling river and even hot lava! Each experience can lead to a new discovery like realizing you're racing against a LEGO-build rocket-powered windsurfing rig and an ornately canopied bed (called a "litter") carried by mummy servants. Who will win is the biggest question and the only way to find out is to step into The Great LEGO® Race VR Experience.
※Tickets for this attraction can be purchased at the admissions counter.
※Operating hours are 11am - 6pm. From December 1st 2019, weekday operating hours will be 12pm - 4pm.
※Operating hours are subject to change without prior notice.