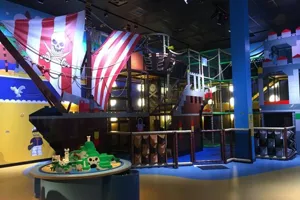 Sail Into Adventure!
Arr, matey! Go on a swashbuckling quest in our soft play area aboard a LEGO-themed pirate ship. 
More Awesome Awaits
Adventure through whimsical scenarios as you climb the rigging, walk the plank and capture the flag!
Activate air cannons to fight off enemy ships and amaze your matey, or escape down the slide to make it ashore to the island's castle.
After building fun on the sea, build a towering structure on land with our challenging Earthquake Tables
Ride Information
All Children Must Wear Socks. Forgot socks? No worries! Socks are available in our gift shop and cafe.
Adults not permitted into this area. All children must qualify for the specific height requirement to enter. You must be between 3ft and 5ft