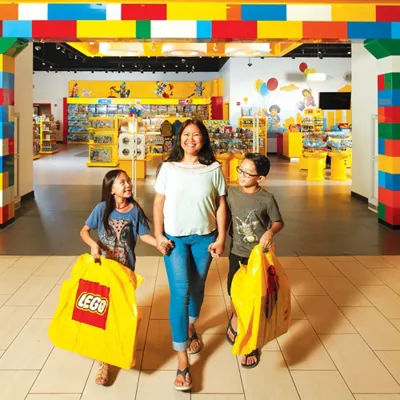 Epic LEGO Shop!
You don't need a ticket to visit the LEGO Store! Even though the attraction is closed, the store is open!
Visit the LEGOLAND Discovery Center Retail Shop and browse a LEGO-tastic array of products to keep any LEGO fan happy.
LEGO Store Hours: 
Monday: 11am - 6pm
Tuesday: 11am - 6pm
Wednesday: 11 - 7pm (Attraction is CLOSED)
Thursday: 11am - 6pm
Friday: 10am - 6pm
Saturday: 10am - 8pm
Sunday: 10am - 6pm
Want Curbside Pickup? Complete our order form and once submitted, you will be contacted by a store representative to confirm and complete your transaction, as well as arrange curbside pickup.
The store representative will also arrange a date/time for curbside pickup of your order.
Curbside pickup is located at The LEGO Giraffe (main entrance).
We are currently only accepting Credit Cards as method of payment.
Annual Pass Member? Receive your discount by providing your card number to our store representative when they call to confirm your order.
LEGO-tastic Store Information
LEGOLAND® Discovery Center Annual Pass members enjoy a 10% discount on select items. Purchase an Annual Pass
We are not able to accept LEGO® Gift Cards as form of payment in our shop.
We do not participate in the LEGO® Club points program.
We can only accept refunds or exchanges 14 days after an item is purchased from LEGOLAND® Discovery Center. The item must be unopened and with the original receipt in order to receive a refund.