Celebrate With Us!
Celebrate with a LEGO® Birthday party at LEGOLAND® Discovery Center Philadelphia and have a fun-filled adventure to remember! The LEGO Birthday Party Package includes admission for your guests, (4) cheese pizzas, beverages, LEGO Take home model for the birthday child AND a private party room for up to 24 people max!


Bertie's Bricktastic Birthday Bash: 
75 minutes in a private LEGO themed party room, group build session in our Creative Workshop AND all day admissions with hours of play in the attraction!
Party host to assist during room time
Pizza and beverages for all guests (24 total guests max)
Guests are also allowed to bring in: Veggie Trays, Nugget Trays, Pretzel Trays and Hoagie Trays!
Birthday Button and LEGO take home model for the birthday child
Activity Pack for all children
All day admissions at LEGOLAND Discovery Center after time in party room
Everything above is included for just $699.99!
Plan Your Party
All parties are a maximum of 24 paid guests.
Paid guests include all adults and children.
Reservations must be booked at least 2 weeks in advance.
You are required to be on-time for your party.
Host family may enter 15 minutes prior to the scheduled time, however party guests cannot enter prior to the selected party time.
You are only allotted 75 total minutes from your start time in the party room. Additional time in the room can not be accommodated. You have full access to the attraction after your 75 minutes in the room.
Payment is taken at time of booking in order to reserve your party package, date and time. 
For questions or to inquire about availability for additional weekday birthday party dates, please email us at Philadelphia@LegolandDiscoveryCenter.com
Arrival Process:
It is important that your entire group (or majority) arrives at your scheduled check-in time. Upon arrival, please check in at the Admissions desk.
You will be greeted by our admission host who will assist you with your check-in, attach wristbands to you and your guests, and sell any additional tickets you may need to purchase.
Party Room & Playtime:
When arriving at your private party room,
you'll find:

The room decorated (Feel free to bring more decorations) 
Party crowns available for each child 
Pizza and drinks will be ready to serve. (This includes 4 total pizzas)

Once the time in the private room is up, you are welcome to put your leftovers and presents in the coat / locker area or bring your items to your car.
You and your guests are then free to enjoy the Center for the remainder of your party after the 75 minutes in the private room concludes. Typically, guests spend 1-2 hours in the attraction after the 75 minutes in the party room.
Child Pick-up:
If you wish, pick-up can take place in front of the Center in retail where you first arrived. Birthday parents generally communicate this to any parents who are just dropping off their children for the party.
Check-in process:
We recommend having the majority of your group gathered together prior to checking in with the admission desk. If you have any emergencies, are running late, or just have questions you can contact our Manager on Duty at (215) 298-2224.

If you are running late, we will do our best to accommodate your party in the time remaining, but we cannot extend your time in the private room past the 75 minutes allotted. If some of your guests arrive late, one of our party hosts will do their best to escort all late guests to the party room.
What to bring:
Order Confirmation: Please bring with you the email confirmation of your order, either printed or you can present this on your mobile device. Other than the above, no need to bring anything else. We'll handle the rest!


Additional Party Food:
BYOCake's are now required for families.


Guests are allowed to bring in: Veggie/Nugget/Pretzel/Hoagie Trays!


Please note, all food must remain in the birthday room AND removed once the party concludes. We will NOT be able to store any leftover food. 
*Food can always be purchased in the Cafe al la cart.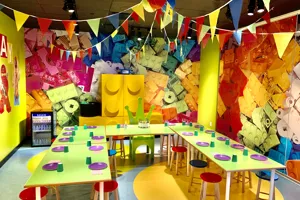 Check out our bricktastic party room!