Build & Inspire
Build amazing creations and witness mega-giant LEGO® builds!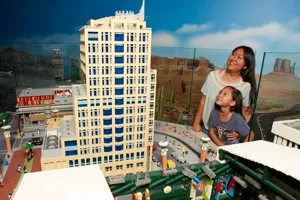 See Landmarks Come to Life in LEGO Bricks!
Explore and interact with the Windy City at our spectacular miniature LEGO® replica of the city's most loved landmarks built from over 1.5 million LEGO® bricks!
More Awesome Awaits
Take a stroll through Millennium Park to see The Bean, check out a Bears game at Soldier Field, or stand in awe of the Willis Tower - there is so much to discover!
Our mischievous Minifigures love hiding in MINILAND! Who will you spot?
MINILAND took a team of 15 expert model builders over 5,000 hours to build. 
Brave the Wild at LEGO® Jungle Expedition
Trek into our LEGO® Jungle Expedition and come face to paw with our wicked-cool life-size LEGO jungle animals!
More Awesome Awaits:
Follow the quiz trail to learn all about tigers, hippos, monkeys, and more!
Look for LEGOtastic family photo opportunities in the jungle!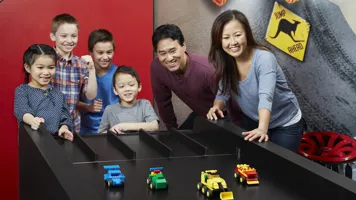 Create an ultra-fast LEGO® race car!
Build a super speedy vehicle and race against your friends on the test track at our Build & Test zone. Will your car zoom across the finish line first? Ready. Set. GO!
More Awesome Awaits
Ask a Playmaker for some super-secret building tips on how to make your car whiz past the competition!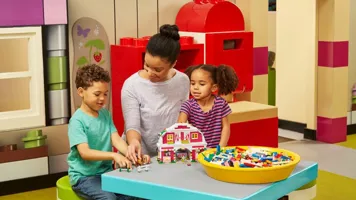 Help Build Heartlake City
Bring the LEGO® Friends story to life with Andrea, Mia, Olivia, Stephanie and Emma as you add your own creations to the colorful city.
Whether you love music, science, sports, nature or art, you'll be inspired by each of the fab five's unique personalities in this interactive build area.
More Awesome Awaits
Snap a selfie with all five LEGO Friends before moving on to your next adventure