Build & Inspire
Build amazing creations and witness mega-giant LEGO® builds!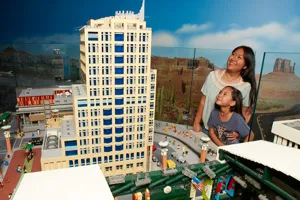 MINILAND Detroit
See Landmarks Come to Life in LEGO® Bricks! Explore and interact with the Motor City at our spectacular miniature LEGO replica of Detroit's most loved landmarks, built from over 1 million LEGO bricks!
More Awesome Awaits
MINILAND took a team of 15 expert model builders over 5,000 hours to build. Catch a special workshop with an expert builder to discover insider tips and super tricks!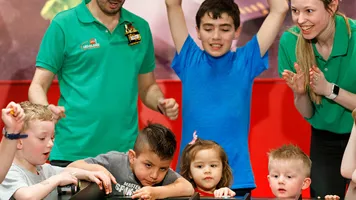 LEGO® Racers: Build & Test
Build a super speedy vehicle and race against your friends on the test track at our Build & Test zone. Will your car zoom across the finish line first? Ready. Set. GO!
Add The Great LEGO Race to your ticket for an epic virtual reality experience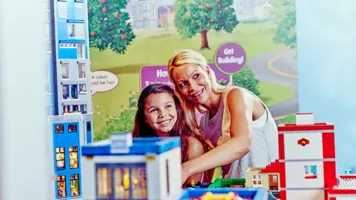 LEGO® Friends Heartlake City
Help build Heartlake City and bring the LEGO Friends story to life with Andrea, Mia, Olivia, Stephanie, and Emma as you add your own creations to the colorful city.
Whether you love music, science, sports, nature, or art, you'll be inspired by each of the fab five's unique personalities in this interactive build area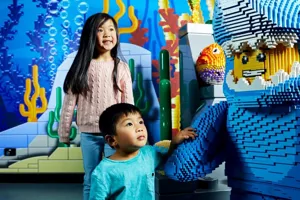 Underwater Quest
Go on an Underwater LEGO® Quest and discover what mysteries lie at the bottom of the ocean! Come face-to-face with a treasure-hunting octopus, build a reef teeming with life & strike a pose with Shark Guy!
LEGO® Factory Tour
Take a virtual, interactive tour of a LEGO® factory and learn the secrets behind how we make our LEGO bricks into so many awesome shapes and colors! Then, build a digital Minifigure just like the pros.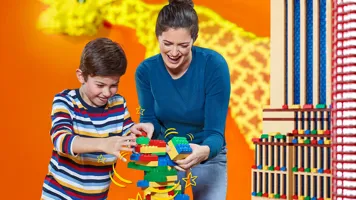 Earthquake Tables
Have you ever tried to build the tallest tower imaginable from LEGO bricks? YES! Have you tested the strength of your tower when an earthquake suddenly rattles the ground below? NO! But, now you can!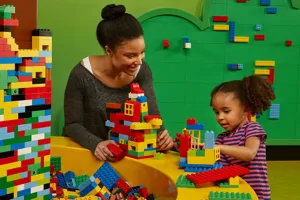 DUPLO Farm
The littlest LEGO lovers can let their imaginations loose in our animal-themed DUPLO Farm! Build a colorful flower for the garden or wiggle and slide around the barn. Which animals will you spot?
More Awesome Awaits
DUPLO Farm is designed to inspire interactive social play, support development, and encourage kids to have fun!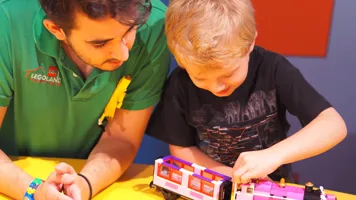 Creative Workshop
LEGO-lovers build to their hearts' content in a workshop right next door to our Master Model Builder's!
Stop by MINILAND Detroit to see what else our Master Model Builder has been up to! What cool creations will you discover?
Feeling inspired? Visit the LEGO Store to browse a BRICK-tastic array of products to continue the fun at home!