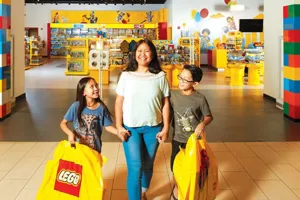 LEGO® Store
You don't need a ticket into the attraction to visit the LEGO Store! It's open to the public.
Visit the LEGOLAND Discovery Center Retail Shop and browse a LEGO-tastic array of products to keep any LEGO fan happy.
LEGO Store Hours:
Monday: 10am - 6pm
Tuesday: 10am - 6pm
Wednesday: 10am - 6pm
Thursday: 10am - 6pm
Friday: 10am - 6pm
Saturday: 10am - 6pm
Sunday: 10am - 6pm
LEGO-tastic Store Information
LEGOLAND® Discovery Center Annual Pass members enjoy a 10% discount on select items.
We are not able to accept LEGO® Gift Cards as form of payment in our shop.
We do not participate in the LEGO® Club points program.
Our store is cashless. Credit or debit card purchases only.
We can only accept refunds or exchanges from items purchased from LEGOLAND® Discovery Center. The item must be unopened and with the original receipt and returned within 15 days of purchase in order to receive a refund.
Frequently Asked Questions
Yes! Our LEGO Store is open to the public and everyone, including adults without children, may enter.
The store is directly adjacent to the LEGOLAND Discovery Center attraction in District 6 of Great Lakes Crossing Outlets mall.
No, all products are sold first-come, first-served.
No, we do not process orders over-the-phone.