Celebrate With Us!
We are currently not accepting additional birthday party reservations at this time. More information on our revamped party package and pricing will be coming soon!
Celebrate a birthday with us! Party packages at LEGOLAND® Discovery Center are all-inclusive and include admission for your guests, access to a private party room, food, beverages, cupcakes, and party favors.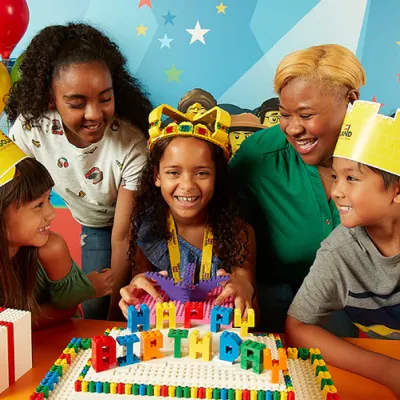 AWESOMER Party Package
Package includes:
**The AWESOMER Party Package is temporarily unavailable**
Admission for up to 25 guests
Party it up in our private event room for 60 minutes
A "LEGO Party Expert" will run your event 
Enjoy stress-free planning with everything included: 


Pizza and drinks for all guests
Colorful cupcakes for all guests
All party supplies (plates, napkins, utensils, balloons and candles)

LEGO activity with take-home party favors for all guests
Activity Pack and LEGO gift for the birthday child
Available Party Times:
TBD
For any questions, please email us at NewJersey@LEGOLANDDiscoveryCenter.com
*We are currently in the process of revamping our party packages and are not accepting additional bookings. More information coming soon!
Plan Your Party
All-inclusive party packages are for up to 25 people, pending COVID restrictions
Party guests include all adults and children
Reservations must be booked at least 2 weeks in advance
For additional questions, please email us at NewJersey@LEGOLANDDiscoveryCenter.com
Arrival Process:
We request that your entire group (or majority) arrives at your scheduled check-in time. Upon arrival, please check in with our admissions host.
You will be greeted by our admission host who will assist you with your check-in, attach wristbands to you and your guests, and sell any additional adult tickets you may need to purchase.
You will be escorted to the private event space at the start of your party. 
Party Room & Playtime:
When arriving at your private party room, you'll find:

Party space entirely set up (with place settings, party favors, and birthday gift)
Pizza and drinks will be ready to serve 
If you placed an order for additional party food this will be served buffet style

The last thing served are the cupcakes. The birthday host will put the cupcake on a plate and light the candle while the party sings happy birthday to the birthday child. The cupcakes are easy to serve so guests can help themselves.
Once the time in the private room is up, the host will assist you in clearing your belongings and direct you to a storage area should you need.
You and your guests are then free to enjoy the Center for the remainder of your party after the hour in the private room is up. Typically, guests spend 2 hours in the Center in addition to the hour in the room. Your party host does not remain with you during this time and any additional beverages or food needed while in the Center are not complimentary.
Child Pick-up:
If you wish, pick-up can take place in front of the Center in admissions where you first arrived or at the ride share pick-up at Hub A (so parents just picking up don't have to park). Birthday parents generally communicate this to any parents who are just dropping off their children for the party.
Check-in process:
We recommend having the majority of your group gathered together prior to checking in with the admission desk. If you are running late, we will do our best to accommodate your party in the time remaining, but we cannot extend your time in the private room past the 1 hour allotted. If some of your guests arrive late, one of our party hosts will do their best to escort all late guests to the party room.
What to bring:
Guest List: We ask all party parents to fill out a guest list to assist with our check-in process. No need to send us this in advance, you can bring this with you on the day of the event. 
Order Confirmation: Please bring with you the email confirmation of your order, either printed or you can present this on your mobile device. Other than the above, no need to bring anything else. We'll handle the rest!
Additional Party Food or Favors:
We do not allow outside food in the Center and we cannot add additional food on the day of your party. We ask that all extra food orders be placed in advance. Food can always be purchased in the Cafe al la carte, but please note we do not sell cupcakes in our Cafe.
If you'd like to add additional party favors from our LEGO Store, please let us know in advance. We're happy to help!