Celebrate With Us!
Celebrate with a LEGO® Birthday party at LEGOLAND® Discovery Center New Jersey and have a fun-filled adventure to remember! The LEGO Birthday Party Package includes admission for your guests, (3) large cheese pizzas, juice, LEGOLAND Activity Pack for the birthday child and a private party room for up to 25 people (maximum).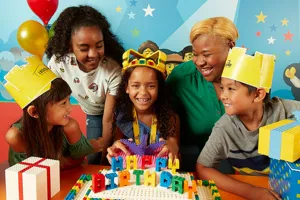 BRICKTASTIC BIRTHDAY PARTY
Celebrate with up to 25 people
1.5-hour admission at LEGOLAND Discovery Center before time in party room.
60 minutes in a private LEGO themed party room and hosted group build competition.
A private meet & greet with Bertie or one of his friends.
A Playmaker from our team to host your party.
Pizza and juice for all guests (25 total guests max)
LEGOLAND Activity lanyard and birthday button for the birthday child.
One group photo with digital downloads. 
Guests are allowed to bring in Birthday cake.
Everything above is included for just $999!
Have a bigger group? Book our Ultimate Birthday Party Package for 50 guests!
Book Now!
PLAN YOUR PARTY
All parties are a maximum of 25 paid guests.
Paid guests to include all adults and children.
Reservations must be booked and paid at least 2 weeks in advance. Parties not paid 2 weeks in advance are released for sale.
You are required to be on-time for your party.
You have full access to the attraction for 90 minutes, before your time in the party room.
You are allotted 60 total minutes from your start time in the party room. Additional time in the room and storage of items cannot be accommodated.
Payment is taken at the time of booking in order to reserve your party package, date and time. All payments must be made 2 weeks in advance to party or the party will be released for sale.
For additional questions, please email us at NewJersey@LegolandDiscoveryCenter.com
Book Now!
ARRIVAL PROCESS:
It is important that you provide the confirmed guest list for your entire group at least 48 hours before your scheduled time. Upon arrival, each person is requested to individually check-in at the Admissions desk.
You will be greeted by our admission host who will assist you with your check-in, share birthday party admission stickers with you and your guests.
Stickers must be worn by each guest to ensure entry into the party room.
PARTY ROOM & PLAYTIME:
When arriving at your private party room, you'll find:
The room decorated
Pizza and drinks will be ready to serve. (This includes 3 total pizzas)
Once the time in the private room is up, you will be supported in collecting your party gifts for exit and escorted out of the attraction
Book Now!
 CHECK-IN PROCESS:
It is important that you provide the confirmed guest list for your entire group at least 48 hours before your scheduled time. If you have any emergencies, or just have questions you can contact us at newjersey@LEGOLANDDiscoveryCenter.com

If you are running late, please note that you will miss out on your time in the attraction.  The announcement for the party time in the birthday room and the pizza party will take place promptly as scheduled. We cannot extend your time past the 90 minutes allotted towards enjoying the attraction.
WHAT TO BRING:
Order Confirmation: Please bring with you the email confirmation of your order, either printed or you can present this on your mobile device. Other than the above, no need to bring anything else. We'll handle the rest!


ADDITIONAL PARTY FOOD:
Cakes are not provided by the company, but you are welcome to bring in your own. Our party host will support cutting the cake and distributing it.
Please note, all food must remain in the birthday room AND removed once the party concludes.
Outside food is not allowed but food can always be purchased in our café a la cart. Payment for a la cart food to be made on an individual basis at the café.
Book Now!