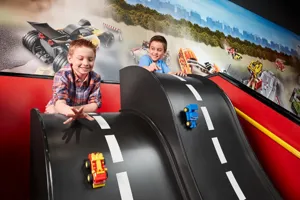 School Field Trips
Inspire your students' imaginations with educational play that harnesses the limitless creative possibilities of LEGO® bricks! 
Reduced admission rates
Free chaperones (1:5 ratio)
LEGO Education Workshops
Field trip planning guide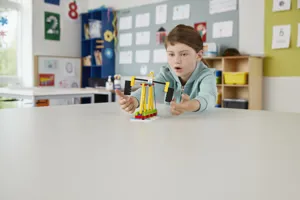 EDUCATION WORKSHOPS
Our workshops incorporate the LEGO® Education BricQ Motion Essential set to engage students in the exploration of physical science and help foster an understanding of forces, motion, and interactions by providing easy hands-on learning experiences.
Grades K-5th
Workshop Length: 30 - 45 Minutes
Subjects Covered: STEAM
Educational Standards: Common Core Curriculum & Next Generation Science Standards
*Launches March 2023*
Explore Workshops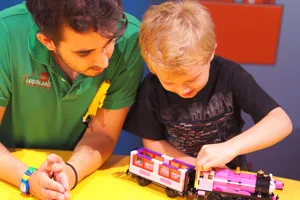 Teacher Resources
We are excited to bring to you a brand new mini classroom teaching unit that introduces elementary school students to focus on imagination, creativity and storytelling through "Film Making with LEGO".
See What's New
Plan Your Visit
Book a school group of 10+ students today and save up to 70% on tickets!  
For every 5 paying students, 1 adult receives free admission
Minimum number of students required to receive school pricing is 10
Minimum number of students required to schedule a workshop is 20
How to reserve your trip: 
Submit our online booking request and a booking coordinator will get back to you within 72 hours.
All prices are subject to tax. Tax exempt forms must be submitted before payment. 
Payment is due 2 weeks prior to your visit date by school check or Visa/MasterCard
Important field trip information:
Reservations are required a minimum of 2 weeks in advance.
Schools are welcomed Monday - Friday from 10:00 a.m - 2:00 p.m (Early arrival accommodations can be made for groups of 50+)
LEGO Education Workshops are not offered during school breaks including spring break, summer or holidays.
Minimum number of students required to receive school pricing is 10.
Minimum number of students required to schedule a workshop is 20.
Due to space restrictions inside our Center, outside food or bagged lunches are not permitted. Please let us know if this presents an issue so we can determine a solution.
Ready to book?
If you require further information on school visits please contact our booking team. We'll be more than happy to provide all the information you need to ensure your students have a memorable, inspiring experience. Email: NewJersey@LEGOLANDDiscoveryCenter.com 
Submit Booking Request
Receive classroom LEGO content & latest news!
Subscribe to our Educator Newsletter and stay connected. We'll deliver our newest teacher resources, keep you in the know of any special offers, educator event invites, friends and family discounts, giveaways and more!