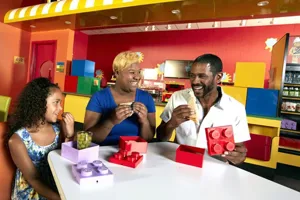 LEGO Cafe & Coffee Shop
Builders of all ages can take a break in our LEGO themed Coffee Shop.
Planning your day? Make sure to include time to take a break from building and wind down in the LEGOLAND® Discovery Center Coffee Shop with a relaxing beverage and variety of snacks.
Menu Overview
*Below is a general summary of what our LEGO Cafe offers. Items are subject to availability.
Pizza
Chicken Nuggets & Strips
An Assortment of Baked Goods
Chips & Crackers
Juices and Milk
A Selection of Soda
A full selection of Starbuck's products