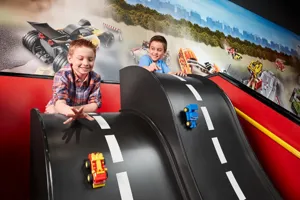 Homeschool Days
Inspire your homeschoolers' imaginations with educational play that harnesses the limitless creative possibilities of LEGO® bricks! Tickets will go on sale soon - stay tuned!
Homeschool Days will be held September 12th - 23rd | Monday - Friday 

Includes a LEGO Education Workshop at either - 2PM, 3PM and 4PM

Monday: Spinning Tops 

Tuesday: Seasons 

Wednesday: Spin The Gears 

Thursday: What-a-Great-Experience

Friday: Merry-Go-Round

Discounted rate for Homeschoolers & their families
30-minute LEGO Education workshop included
Meal Deal Options (add-on)
No group minimum required
PLAN YOUR VISIT
PIZZA MEAL DEALS
Pizza Meal Deals may be purchased in advance of your group visit. All pizza orders are cheese pizza. Please place your meal deal order at least 2 weeks in advance of your visit. 
Child Pizza Meal Deals - $6.25 plus tax
Includes 5" personal pizza
Choice of Milk, Water or Honest Kids Juices
Adult Pizza Meal Deals - $8.25 plus tax
Includes 7" personal pizza
Choice of 20oz bottled drink