October is Scout Appreciation Month!
Free Entry for Scouts in uniform and 50% off friends and family! (10/1 - 10/31)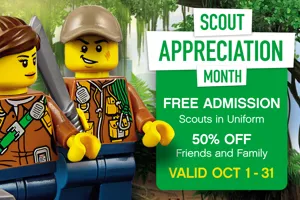 Free Entry for Scouts This October!
This October, we're celebrating all of the super awesome scouts out there! All through October, scouts in uniform get free entry PLUS 50% off for their friends and family - up to four (4) guests. Valid online or at admissions. Children 2 and under are still free!
Monday - Sunday - All October long!
All adults must have a child in their party with them for entry. Child in official scout uniform required to claim offer. Subject to change without notice.