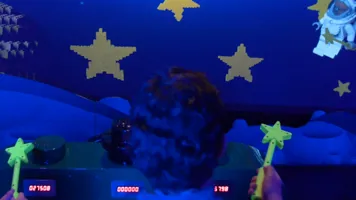 All aboard!
This is no ordinary train ride! Travel through an interactive LEGO world full of imagination and color. Wave your magic wand to collect points as you go and see how your skills match up with the other passengers at the end.
More Awesome Awaits
Immerse your family into a world of LEGO with this one-of-a-kind ride experience
Using state-of-the-art technology, wave your wand at the larger-than-life screens with colorful LEGO animations to get the highest score!