San Antonio Made Into LEGO Bricks with MINILAND®!
Sneak a peek at our spectacular MINILAND. It's built from A LOT of bricks: over 1.5 million!
Explore and interact with the Alamo City at our spectacular miniature LEGO® replica of the city's most loved landmarks built from over 1.5 million LEGO® bricks!
See the historic Alamo, walk alongside the world-famous San Antonio River Walk or stand in awe of the giant Tower of the Americas - there is so much to discover inside MINILAND!
Our mischievous Minifigures love hiding in MINILAND! Who will you spot?
The Alamodome features over 50,000 bricks! It took our team over 520 hours to build, which is the equivalent of driving across the state of Texas 43 times!
Catch a special workshop with one of our expert model builders to discover insider tips and super tricks!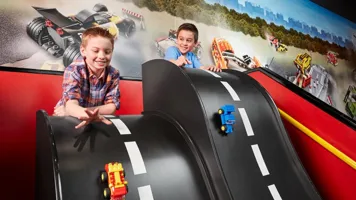 Create an ultra-fast LEGO® race car!
Build a super speedy vehicle and race against your friends on the test track at our Build & Test zone. Will your car zoom across the finish line first? Ready. Set. GO!
More Awesome Awaits

Ask a Playmaker for some super secret building tips on how to make your car whiz past the competition!
After your race, take a selfie with our 3-foot Racecar Minifigure!
Can't get enough racing? Add The Great LEGO® Race VR Experience to your ticket for an epic virtual reality experience