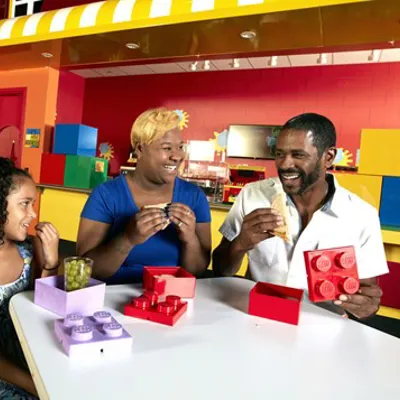 Take a break from building
Builders of all ages can take a break in our LEGO®-themed Coffee Shop.
Current Cafe Hours:
Mondays - Thursdays: 11:30am - 4:00pm
Fridays: 11:30am - 5:00pm
Saturday: 10:00am - 5:00pm
Sunday: 11:00pm - 4:00pm
Planning your day? Make sure to include time to take a break from building and wind down in the LEGOLAND® Discovery Center Coffee Shop with a relaxing beverage and variety of snacks.
Menu Items
Round Cheese Pizza (Individual)
Round Pepperoni Pizza (Individual)
Chicken Tenders 
Chicken Corn Dogs
Sandwiches (Ham, Turkey, Chicken Salad)
Please note items are subject to change depending on availability
Assorted Chips
Crackers
Rice Krispy Treat
Oreo Cookies
Jell-O Strawberry
Mandarin Orange Cup
Mix Berry Fruit Snack
String Cheese 
Vanilla Pudding Cup
Hummus & Pretzel Cup
Fruit Squeeze
Please note items are subject to change depending on availability
Churro
Soft Baked Pretzel
Muffins
Fresh Chocolate Chip Cookie
Please note items are subject to change depending on availability
Bottled Soda & Iced Tea
Tumm-ie Yummie Flavored Water
Dasani Water 
Milk (Regular & Chocolate)
Capri Sun Berry Squeeze
Juice (Apple & Orange)
We also serve Fresh Starbucks Coffee & Beverages
Please note items are subject to change depending on availability