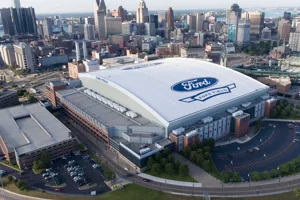 History of Ford Field
Ford Field is a domed American football stadium located in Downtown Detroit and it primarily serves as the home of the NFL team, the Detroit Lions. The regular seating capacity is approximately 65,000, but the stadium can be expandable up to 70,000 for football and 80,000 for basketball.
Ford Field got its name from the Ford Motor Company, who purchased the naming rights for $40 million over 20 years; the Ford family has also had controlled ownership of the Lions franchise since 1963.
The stadium's design incorporates a former Hudson's Department Store warehouse, which was constructed in the 1920s. The presence of this warehouse in the designs allowed for a seating arrangement that is unique among professional football stadiums. The majority of the suites and premium lounges are located in the warehouse along the stadium's southern side.
Unlike other domed stadiums, Ford Field allows a large amount of natural light to reach the field in part thanks to the immense skylights and large glass windows at all the corners. The windows along the ceiling are frosted to mimic all the automotive factories throughout Metro Detroit.
Today, the stadium is used for both sporting and entertainment events.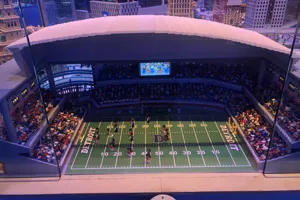 LEGO® Ford Field in MINILAND®
Our LEGO® model of Ford Field is built out of 22,000 LEGO bricks and took 80 hours to design and build. The stands hold 800 minifigures, which is the largest seating capacity in LEGOLAND® Discovery Center Michigan's MINILAND®.

The football field is 3 feet long (about 1:600 scale) in order to fit within our miniature city. If the building were fully Minifigure-scaled (about 1:48 scale) in order to accommodate the real capacity of 70,000 people and a Minifigure-scaled 15 foot long field, the building would need to be nearly 25 feet long and would be built out of over a million bricks.  
LEGO Ford Field contains a playable game where you can make our Minifigure MVP run for the endzone. This is accomplished using a customized magnetic game system and the MVP has a purpose-built low-resistance nylon "skateboard" that allows him to move smoothly over the field. 
Do you think you can score a touchdown? Visit LEGOLAND® Discovery Center to find out!
Also be sure to check out the links below to learn more about other famous Detroit landmarks you can find in MINILAND!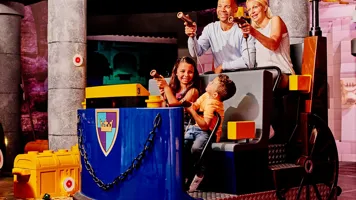 Did you know?
You can see the LEGO Ford Field inside MINILAND at LEGOLAND Discovery Center, about 40 minutes away from the REAL building.
LEGOLAND Discovery Center is the ultimate indoor LEGO® playground — the perfect place for families with young children to learn, build and play together!
SEE MORE DETROIT LEGO LANDMARKS: