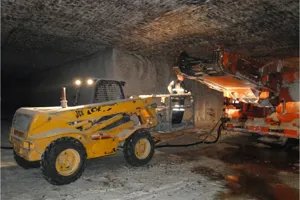 History of Detroit's Salt Mines
The existence of rock salt was first discovered in Detroit in 1895 and by 1906 the first salt mining company, Detroit Salt and Manufacturing Company, was working on creating the first Detroit salt mine. Unfortunately, the cost of such an undertaking was too much and the company went bankrupt before completing the mine. By 1910 a new company, Detroit Salt Company, had taken over and completed the mine.
Building the mine was an arduous task as workers first had to sink a 1,060-foot shaft down into the mine to gain access. In 1922 a second shaft was created bigger than the first to make work easier. All equipment needed in the mine had to be sent down the shafts and because of their size, most equipment needed to be disassembled, sent down, and then reassembled below.
The mine was used regularly from 1910 until 1983 and during its operation it provided salt mainly for the leather and food processing industries. In 1997, Detroit Salt Company, LLC purchased the mine and once again began mining the salt. Today the salt gathered from the mine is used solely for road deicing products.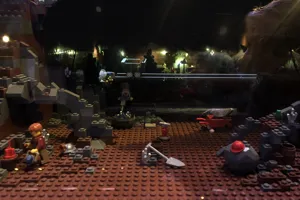 LEGO® Salt Mine in MINILAND®
Our LEGO® Salt Mine is built from 5000 LEGO bricks and goes deep underground beneath MINILAND Detroit. 
Minifigures are digging up large salt crystals, though a few other goodies are hidden throughout the scene as well, including an emerald, a frog, and a LEGO sock that one of the miners has lost. 
The LEGO salt mine features a special interactive element, using the magic trick called "Pepper's Ghost," we've incorporated a hologram of Minifigure miners hard at work digging up salt! 
Do you think you can discover all of the hidden surprises in the mine? Visit LEGOLAND® Discovery Center to find out!
Also be sure to check out the links below to learn more about other famous Detroit landmarks you can find in MINILAND!
SEE MORE DETROIT LEGO LANDMARKS: