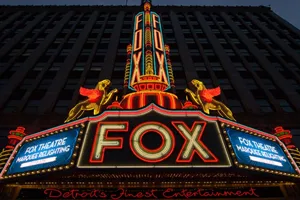 History of Fox Theatre
The Fox Theatre is a performing arts center located in Downtown Detroit. The theatre opened in 1928 as a movie palace and with over 5,000 seats, it was the largest theater in the city. The Fox Theatre was designed by architect C. Howard Crane with 5,048 seats (5,174 seats if you include the removable seats) and is the largest surviving movie palace of the 1920s. Crane designed the theater with a lot of East Asian influences including Burmese, Chinese, Indian and Persian motifs and the incredibly lavish interior showcases this design across three levels of seating: Main Floor, Mezzanine, and Balcony. The theater also has a ten-story office building attached which currently houses the headquarters for Olympia Entertainment
When the Fox opened in 1928, it became and subsequently remained Detroit's premier movie destination for decades. However, by the 1960s, the venue was showing its age and needed vital maintenance. By the 1970s, the mezzanine and balcony seating areas had to be closed to the public for safety concerns. Luckily the theater was closed in the late 1980s during which it underwent a full restoration. The Fox Theatre reopened in November of 1988 and has been fully operational ever since.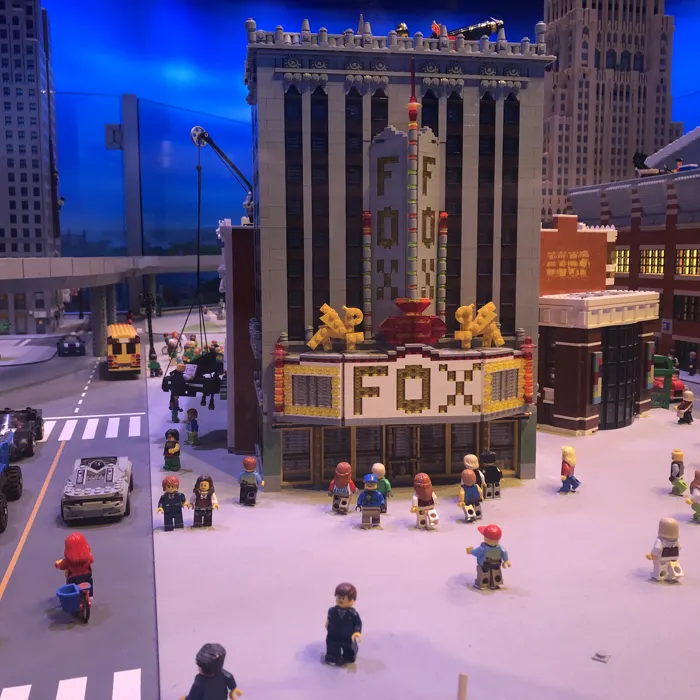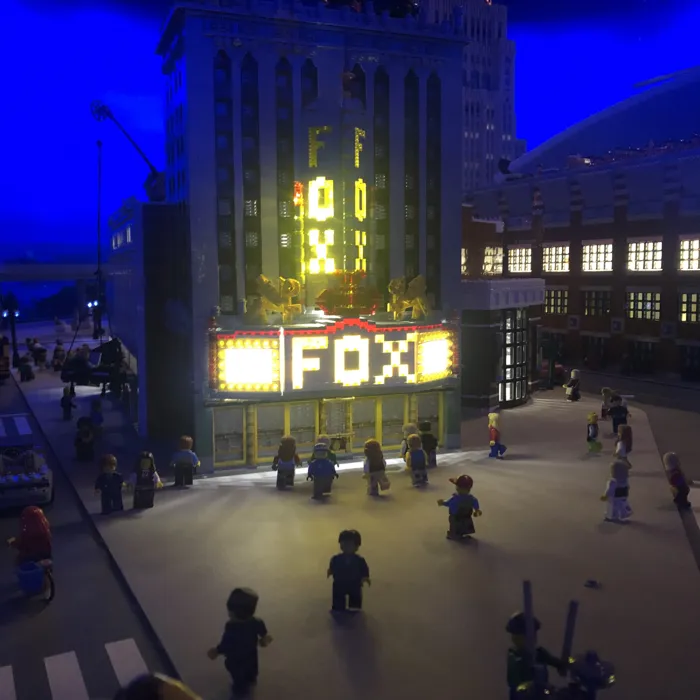 LEGO® Fox Theatre in MINILAND®
LEGOLAND® Discovery Center Michigan would not be complete without a recreation of Detroit's Fox Theater. Our model stands at 17 inches tall and comes complete with the winged golden lions which adorn the marquee.
The LEGO® Fox Theater is made of 6700 bricks and took 30 hours to design and build. Ours is just a façade of the building, as the back of MINILAND's Fox Theater is made up of the Detroit Opera House. These buildings are not adjacent in real life but rather a 5-minute walk apart. 
MINILAND's Fox Theatre has been the only building from MINILAND Detroit that has been a travelling exhibit. It was put on display at the real Fox Theater in 2018 to celebrate performances of Elf: The Musical. Minifigure elves replaced it with a Christmas tree and a 12-inch-tall statue of Buddy the Elf until the building was returned to its proper place.  
The Fox Theatre always has something fun happening around its marquee. What will you spot when you visit LEGOLAND Discovery Center?
Also be sure to check out the links below to learn more about other famous Detroit landmarks you can find in MINILAND!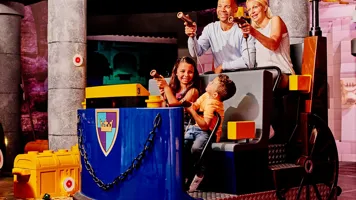 Did you know?
You can see the LEGO Fox Theatre inside MINILAND at LEGOLAND Discovery Center, about 40 minutes away from the REAL building.
LEGOLAND Discovery Center is the ultimate indoor LEGO® playground — the perfect place for families with young children to learn, build and play together!
SEE MORE DETROIT LEGO LANDMARKS: