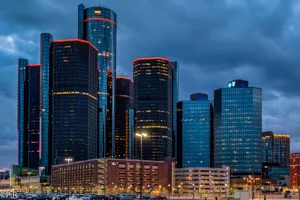 History of GM Renaissance Center
Detroit's GM Renaissance Center, affectionately nicknamed the RenCen, is a group of seven skyscrapers in Downtown Detroit. Construction began on phase one in 1973, led by architect John Portman. The first phase focused on a rosette pattern with four 39-story buildings surrounding one 73-story tower in the middle. The complex opened to the public on July 1, 1976 and on April 15, 1977, Henry Ford II and Mayor Coleman Young unveiled a plaque thanking all the investors who made the project possible. In 1981, two additional 21-story office buildings opened, creating the complete complex as we know it today. In 1996, General Motors purchased the RenCen to be used as its world headquarters and in 2004 they completed massive renovations on the complex costing $500 million.
Initially, when the Renaissance Center was completed, the center tower was home to the Detroit Plaza Hotel and boasted several titles including: tallest building in Michigan and world's tallest all-hotel skyscraper. Unfortunately, it lost the tallest hotel title in 1986 to the Westin Stamford in Singapore but has maintained the honor of tallest building in Michigan since 1977.
FUN FACT:
Nearly 400,000 cubic yards of concrete, 40,000 tons of structural steel and two million square feet of glass were used by 7,000 construction workers to erect the first five buildings at a cost of $350 million.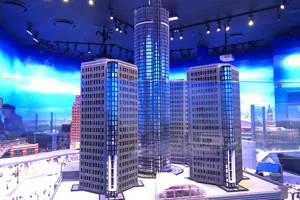 LEGO® GM Renaissance Center in MINILAND®
LEGOLAND® Discovery Center's model of the GM Renaissance Center contains over 10,000 windows! It took roughly 800 man-hours to design, build, and illuminate!
The RenCen is built from over 100,000 LEGO® bricks and is 6 feet tall. It is the tallest building in our MINILAND® just as it is the tallest building in the State of Michigan. 
LEGO did not have a silver window element prior to the construction of our GM Renaissance Center. A special, mirror-finished piece was created just for this project. 
Learn more about other famous Detroit landmarks that can be found in MINILAND by following the links below.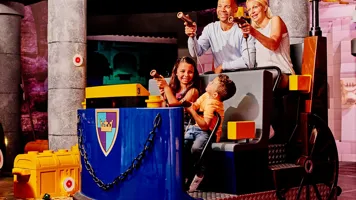 Did you know?
You can see the LEGO GM Renaissance Center inside MINILAND at LEGOLAND Discovery Center, about 40 minutes away from the REAL building.
LEGOLAND Discovery Center is the ultimate indoor LEGO® playground — the perfect place for families with young children to learn, build and play together!
SEE MORE DETROIT LEGO LANDMARKS: