IN ASSOCIATION WITH LEGO® EDUCATION
LEGOLAND® Discovery Center has collaborated with LEGO® Education to provide unique, high quality learning experiences. Our workshops are designed to bring math, science, engineering and language to life and encourage skills in communication, collaboration, critical-thinking and problem solving. Discover the learning philosophy of LEGO Education in the thrilling atmosphere of LEGOLAND Discovery Center, offering a wonderful balance of learning and fun!
LEGO® EDUCATION WORKSHOPS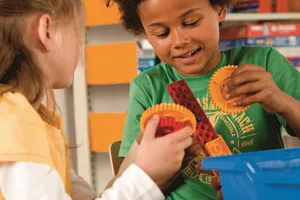 Spinning Tops
In this exciting 30 minute workshop students build LEGO spinning tops, collect data on whose spinning top spins the longest, while also learning about the forces that affect their tops performance. 
Grade Level: Kindergarten
Subjects Covered: Engineering, Design, Mathematics
Materials Used: Early Simple Machines III Set
Standards Addressed: NGSS: K-2-ETS1-1; K-2-ETS1-2; K-2-ETS1-3 and CCSS: SL.CCR.1; SL.CCR.2
Pre-Visit Activities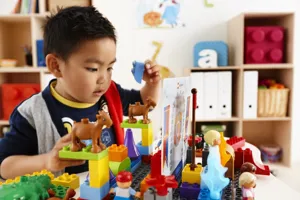 LEGO® Seasons
Our Pre-school program taps in to young children's innate desire to explore, investigate and learn. See your pre-schoolers imagine, create and explore whole new worlds with oversize LEGO® bricks designed to fit perfectly in small hands. We believe that playing is the best way to learn for pre-schoolers and LEGOLAND® Discovery Center is the ultimate LEGO classroom.
Help your young students learn about the seasons the hands-on way. In this workshop students will build and share what they know about the current season; leading to a discussion on changes in weather and important seasonal activities and events.
Grade Level: Pre-school
Subjects Covered: Science, Speaking and Listening
Materials Used: LEGO StoryTales Set
Standards Addressed: CCSS: SL.1.1.B; SL.1.4; SL.1.6
See full details on standards addressed >
Pre-Visit Activities
Ready to book?
If you require further information on school visits please contact our booking team. We'll be more than happy to provide all the information you need to ensure your students have a memorable, inspiring experience. Email: SAGroups@merlinentertainments.biz
Receive classroom LEGO content & latest news!
Subscribe to our Educator Newsletter and stay connected. We'll deliver our newest teacher resources, keep you in the know of any special offers, educator event invites, friends and family discounts, giveaways and more!