LEGO PIRATES: HUNT FOR THE GOLDEN TREASURE
June 23 - July 23
During Normal Operating Hours
Included with General Admission
All Ages
Starting June 23 through July 23, join Pirate Captain on the hunt for the golden treasure at LEGOLAND Discovery Center Bay Area!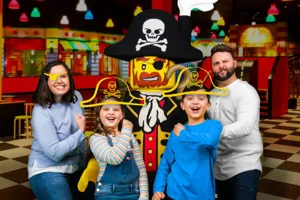 There is Treasure to be Found!
Captain Brickbeard's ship has crashed and he's on the hunt for enough golden treasure to buy himself the shiniest, speediest, and most beautiful ship that there ever was! Use the "Ye Olde Treasure Map" to scope out all of the hidden treasure locations throughout the attraction and earn an awesome prize fit for a pirate. Do you have what it takes to become a pirate? Join the hunt this Summer! 
Aspiring Pirates can also:
Help build the LEGO Pirate Ship or build a Pirate Pet in the Creative Workshop
Take a Pirate selfie and show us your best aaarrrggghhh face!
Become a Pirate in the Pirate Training Academy
Create a ship on wheels and set sail down our Build & Test Ramp
Go on a swashbuckling adventure in Pirate Adventure Island
Scavenger hunt in MINILAND Bay Area   
...and more!
Guests will receive a LEGO pirate hat, and LEGO pirate pop badge upon completion of the quest (while supplies last).
So, immerse yourself in a hearty world of LEGO Pirates and see if you have what it takes to conquer the hunt for the golden treasure!