New NINJAGO Event
Limited Time Experience: July 18 - August 14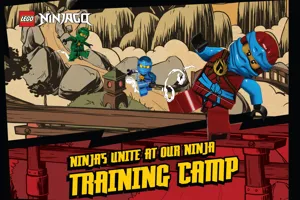 Join Team Ninja!
The journey to Ninja mastery continues at LEGOLAND Discovery Center Bay Area! The exciting, activity-based experience, from July 18-August 14, will have uber Ninja, mentor and leader, Master Wu, open the doors to his exclusive Ninja Training Camp as he looks to train and recruit a new crew to join his Ninja team.  
Level up your Ninja skills to master the six Ninja virtues - courage, balance, honesty, generosity, curiosity and wisdom. 
The Ninja Training Camp will allow you to...
Find your BALANCE as you learn some moves from Master Wu
Muster up your COURAGE and make your way across laser maze
Foster your GENEROSITY by building your own Ninja and as a gift to Master Wu 
Pledge your HONESTY by making sure you return things where they're supposed to go
Pique your CURIOSITY through the Ninja search in Miniland
Gain WISDOM by creating the mosaic
Meet the one and only Master Wu...and more! 
Complete the challenges and you will be rewarded! Join us and protect the LEGO NINJAGO legacy!
Buy Tickets